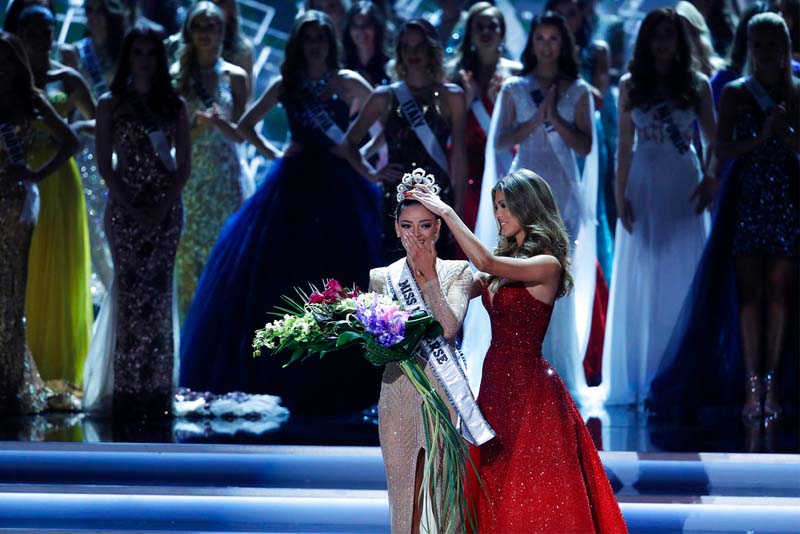 Miss South Africa crowned as the new Miss Universe!
Demi-Leigh Nel-Peters was crowned as the newest winner of Miss Universe 2017 held in Las Vegas on Sunday night. The South African beauty won the prestigious pageant over 90 beautiful contestants from the different parts of the universe. In the final round, the 22-year old beauty queen beats out Miss Colombia Laura Gonzalez who took the first runner-up spot while Davina Bennett representing Jamaica came in as the second runner-up. She takes over for Iris Mittenaere of France, who was crowned during last year's competition in the Philippines.
You may have already known her since it's currently the trending topic in all social media and in the world wide web . To know more about her, here are truly inspiring facts about the new reigning Miss Universe:
She considers her disabled sister, Franjie, who was born without a cerebellum as her biggest motivator in life.
In an interview with Jacaranda FM, she shares,
"It's always been his dream to go into the hospitality industry. I have a 10-year-old half-sister, Franje. She is my dad and step-mom's daughter. She was born without a cerebellum and is completely disabled. She is my biggest motivator in life (and she has the most beautiful lashes any girl can dream of)."




Since 1978, she has been the second Miss Universe winner from South Africa. The last winner from South Africa was Margaret Gardiner.
She was once being hijacked and held at gunpoint after being crowned Miss South Africa 2017.
Because of her experience, she became active with her participation in a self-defense program that she helped develop for women. In her interview with Jacaranda FM, she says,
"Nothing is impossible. The word itself says 'I'm possible'. You are worthy, you matter and you are capable of more than you could ever dream of, all you have to do is try."




She has always been proud of the fact that she has "four parents" as both her mom and dad are remarried. 
She happily shares,
"They are my biggest supporters and they have always believed in me and dreamed with me."




She has a degree in Business Management.
It says in her official Miss Universe bio that she "recently earned her degree in Business Management at North West University after making history at her high school for holding two leadership positions."
This she earned right. With her win, she receives a year-long salary, an upscale New York City apartment through 2018 and other exciting prizes.
For her final Q&A portion in top 3, Demi-Leigh was asked "What quality in yourself are you most proud of and how will you apply that quality to your time as Miss Universe?"
This was what she had to say as her winning answer:
"As Miss Universe, you have to be confident in who you are as an individual. A Miss Universe is a woman who has overcome many fears and by that, she is able to help other women overcome their fears. She is a woman that nothing is ever too much to ask for. And I think that is exactly who I am."
Spread the love and good news!
Share this to someone you care about.
#sharethelove #spreadtheword #unflush